I've been wading through my copious notes and sorting photos. Here are some of the hightlights of the face murrini. The process involves creating murrini for eyes, nose (we did plain outline and shaded noses), and lips. Mine are first and then Loren's. These are slices from murrini about the size of your little finger.



These are then assembled into face murrini about the diameter of a thumb. Here's a shot of the load in the kiln. Mine are front left. Loren's are bottom right.


Click on the photo to get a bigger image to see the details.

We cut slices of those murrini and sculpted them into 3-D faces. My slice:


Here, Loren's sculpture and then mine (a Who, for sure!).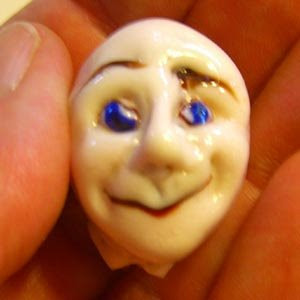 This process consumed 2 1/2 long days.